JEFF BATES HONORS HIS IDOL CONWAY TWITTY
JEFF BATES HONORS HIS IDOL - RELEASES CONWAY TWITTY TRIBUTE ALBUM THIS WEEK
ME AND CONWAY Available For Purchase Tomorrow, November 11, 2014
Rolling Stone Country Offers Up Preview of "After The Fire Is Gone," Bates' Duet with the Legendary Loretta Lynn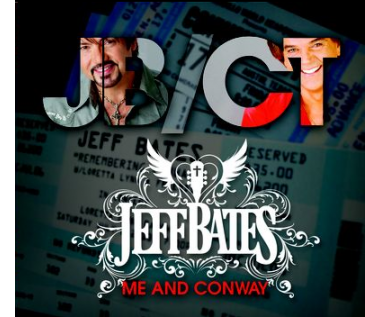 Nashville, Tenn. (November 10, 2014) - Tomorrow, November 11, 2014, country singer Jeff Bates will honor his idol when he releases his tribute to the late Conway Twitty, titled Me And Conway.
Bates always idolized Conway but never intended to mimic his vocals. After years of fighting critics and the industry about comparing their vocal styles, Bates decided to record a new album with six Conway songs and six others so that people could hear the differences and similarities for themselves. On Me and Conway, Bates has included his renditions of Conway Twitty classics, "Don't Take It Away," "Lost In The Feeling," "I'd Love To Lay You Down," "She's Got A Single Thing In Mind" and "That's My Job."
Bates also included Conway's classic duet with the legendary Loretta Lynn, "After The Fire Is Gone." He was honored beyond comparison when the country matriarch agreed to record the song with him. The new version of the song marks the first time Lynn has recorded the song since the original duet with Conway. Rolling Stone Country is currently offering up an exclusive preview of the newly recorded classic hit. Listen HERE.
Me And Conway, distributed by Sony Red / Red River Entertainment, will be available in retail stores tomorrow and online at JeffBates.net and
Amazon.com
, as well as digitally on iTunes.
Me And Conway Track Listing:
4. She's Got A Single Thing In Mind
6. I'd Love To Lay You Down
11. Heaven Is A Hell Of A Woman
12. After The Fire Is Gone (duet with Loretta Lynn)
Signed to RCA Records in late 2002, Jeff Bates released his debut album Rainbow Man in May 2003. A second album, Leave The Light On, was released in 2005 on RCA. The album was followed by Jeff Bates in 2008 on the independent Black River Entertainment. Bates' two RCA albums accounted for seven chart singles on the Billboard country charts, of which three reached the Top 40: "The Love Song," "I Wanna Make You Cry" and "Long, Slow Kisses." Bates has been active in his works of compassion, collecting for organizations such as Toys For Tots and others. In 2005, a concert in Hattiesburg, Mississippi raised $25,000 for Hurricane Katrina relief in his home area.