Thursday, January 12, 2012
6:48 AM
Christian Lamitschka
No comments
PAM TILLIS, RISING R&B ARTIST KRIS THOMAS PAY TRIBUTE TO ELVIS, MARTIN LUTHER KING, JR.
IN NEW MUSIC VIDEO, "TWO KINGS"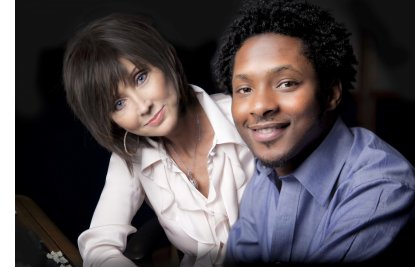 Nashville, Tenn. (January 11, 2012) – Country music superstar Pam Tillis and rising R&B sensation Kris Thomas have come together to record a tribute to "Two Kings," civil rights leader Dr. Martin Luther King, Jr. and the King of Rock n Roll Elvis Presley. The tribute song seamlessly blends the sounds of soul, country, pop and gospel. Appropriately releasing between the 77th birthday of the late Elvis Presley (this past Sunday, January 8) and Martin Luther King Day (Monday, January 16), "Two Kings" premieres today exclusively on AOL's The Boot. Watch the video HERE.
"Maybe It Was Memphis" singer Pam Tillis and Memphis matriarch Brenda O'Brien wrote the song. O'Brien's family owned the famous Memphis night club "The Plantation Inn," which not only was known as the Memphis hot spot frequented by celebrities (including a young Elvis Presley before his fame) but also as a melting pot of races and social classes in the extreme racially charged times.
"Martin Luther's contribution to civil rights is an unassailable matter of history and Elvis' disregard of the division of race in music helped change it forever," says Tillis. "My friend Brenda O'Brien, who grew up during the turblulent times of the civil rights struggle, right in the middle of the Memphis music scene, saw the connection and brought the song idea to me... all I did was help her see her vision through."
"The message of this song is so powerful and relevant especially in our world today… and all the connections to Memphis make this song really special to me being a Memphis native," says Thomas. "Plus being able to sing and work in the studio with Pam was such a thrill and an education for me."
Tillis and Thomas filmed the video for the song in Memphis, Tennessee earlier this year with documentary producer Molly Secors. Additional vocals in "Two Kings" is provided by the Stax Academy Street Corner Harmonies choir. "Two Kings" is available for purchase now at all digital retail outlets.
Tillis adds, "This song is just an earnest attempt to honor each man's legacy and ask, "what will you do to make the world a better place?"
A former
CMA
Female Vocalist of the Year, Pam Tillis is a GRAMMY Award winning singer/songwriter, acclaimed actress of the Broadway stage and on screen in television and film. Her chart-topping career has secured her place in country music history. Kris Thomas, a Memphis native and former Stax Academy "kid," first gained attention in 2010 with the release of his debut single, "I Know You Won't," a soulful rendition of the Carrie Underwood ballad. Thomas is recording a mix tape in Memphis and Nashville.
Posted in:
Country Music News